SHEROES Foundation Provides Skills Training for Youth in the Community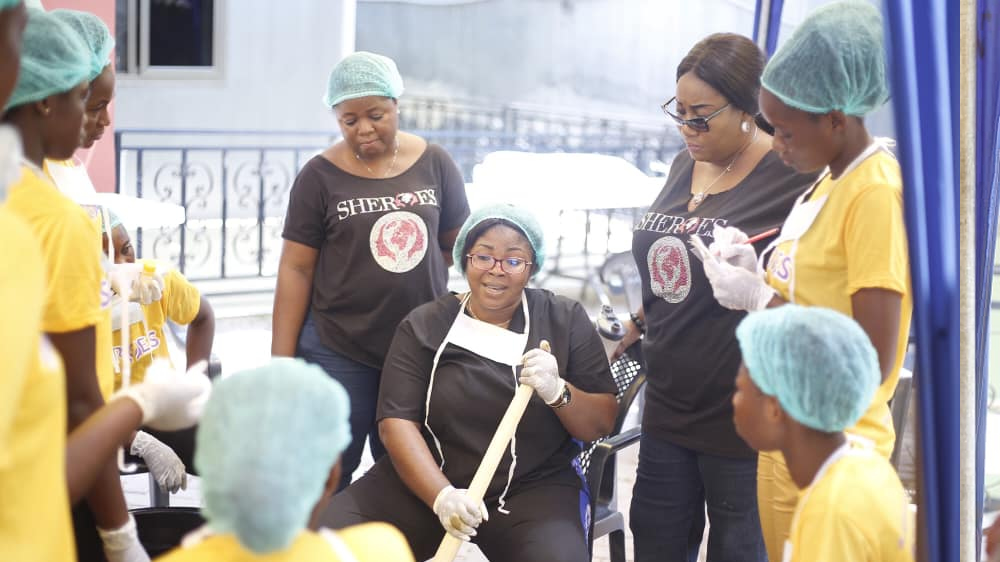 SHEROES Foundation, an NGO in Accra, Ghana provided about 40 young girls, teen mothers and women within the Martey Tsuru community with vocational training and entrepreneurial skills to empower them economically.
The beneficiaries, whose ages range from 15 to 30 assembled at the SHEROES Headquarters, for a two-day intensive training in beads designing, juice making, pastry making process (spring rolls and samosas) and liquid soap production.
In 2015, the United Nations signed the 2030 Agenda for Sustainable Development, which includes a set of 17 Sustainable Development Goals (SDGs) providing economic and social development training and support, ending poverty, eradicating hunger, improving health, promoting equitable economic growth, ensuring education for all, and supporting inclusive, peaceful societies. Our work with marginalized women living in poverty contributes to this ambitious agenda.
SHEROES Foundation's mission directly aligns with SDG goals #4,5 &8 to achieve gender equality and the empowerment of all women and girls through quality education and decent work.
As part of measures to restore hope in the lives of disenfranchised girls, SHEROES Foundation has committed to the youth development through life skills training in Ghana, Nigeria and in Liberia.
Young girls and women in Africa are in a vulnerable state in the labor market. Many of them lack the skills, work experience, job-search abilities and financial resources to find employment. Youth make up 25 per cent of the global working-age population, yet they account for 40 per cent of total unemployment. Young people are almost three times more likely to be unemployed than adults.
The training program apart from providing skills to these young girls empowers them to know their privileges as responsible citizens.
The organization's Founder and Executive Director, Flossy Tachie-Menson believes that young women in our communities who fall victims to rape, teenage pregnancy and neglect, should not be overlooked.
"They possess as much potential as anyone else and must be afforded opportunities to prove their worth in society," she said.
We believe that the participants, through this training, now have the skills and mental capacity to conquer the world around them.
Graduation ceremony for this group will be held on Saturday, November 16, 2019, where they will be given certificates and Start-up kits for their ventures.
Additionally, We plan to monitor the participants for 2 years after the training to assist in finding employment, encourage the entrepreneurs, evaluate their progress and support their growth financially and emotionally.

Related Categories